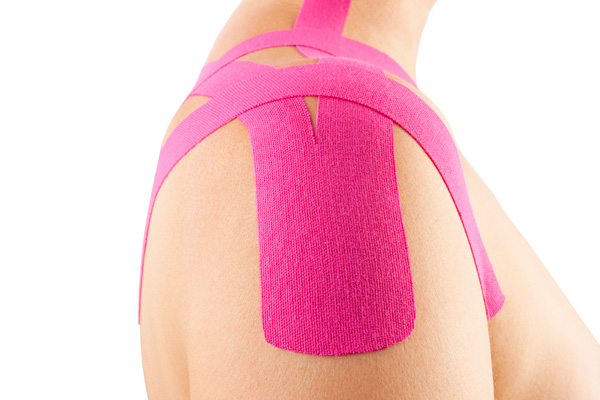 RockTape is an advanced, therapeutically-engineered form of kinesiotape (KT tape) for treating a broad range of ailments. Though typically associated with athletes and sports injuries, kinesiotape is beneficial for many conditions. Our experienced chiropractors carefully apply RockTape kinesiotape for maximum pain relief and fast recovery. In fact, our patients often report feeling immediate pain relief after our chiropractors apply RockTape to the injury.
What Injuries Can Be Treated with RockTape Kinesiology Tape?
RockTape can help with...
Hamstring injuries
Rotator cuff injuries
Tendonitis
Plantar fasciitis
ACL/MCL injuries
Tennis/golf elbow
Back pain
Shin splints
Iliotibial (IT) band injuries
And more
How Does RockTape Kinesiotape Work?
RockTape microscopically lifts the skin on the area where it is applied. In doing so, the skin is gently pulled off the soft tissue underneath, improving blood flow and lymphatic drainage throughout the area. As a result, patients experience pain relief and an expedited recovery. By reducing inflammation and alleviating swelling, the area heals and recovers faster than it would have otherwise. Our chiropractors carefully assess the issue before strategically applying RockTape for best results.
If you're looking for a drug-free, non-surgical way to relieve pain and treat your injury, Duncan Chiropractic Group is ready to assist. Our chiropractors are all highly-experienced professionals, meaning we will deliver the best possible care for your injury.
Contact us now and meet with one of our chiropractors today for a RockTape treatment.